Introduction to Workbooks Web Insights
Note: This module is currently in Beta. If you are interested in joining the beta program, please contact support@workbooks.com. 
What is Web Insights?
Web Insights is primarily a lead generation module which allows you to track the digital footprint of prospects in your sales funnel but also of your existing customers. You can easily see who is visiting your website, which pages they're reviewing and how often. This information is brought into Workbooks by integration with GatorLeads (from CommuniGator) and then linked to existing Workbooks records or even used to create new records (i.e. Sales Leads). Using the Workbooks reporting functionality, you can build efficient reports that will help you make the most of your website traffic data.
How does it work?
The Tracking Code placed on your website allows GatorLeads to track which Organisations and People have been visiting your website, and which pages have been viewed. By adding a rating to each of your pages in GatorLeads, you can target Organisations which are most likely to be 'hot' leads based on the pages they have been visiting.
The GatorLeads tracking code will catch the Domain Name, which is then brought into Workbooks by the Web Insights Plugin. It will look for an existing Domain Name record or Email Address, and if it finds one, it will create an Online Activity against the Organisation, Person or Sales Lead. If it doesn't find one, it will create a new Domain Name record and a new Sales Lead to link to it.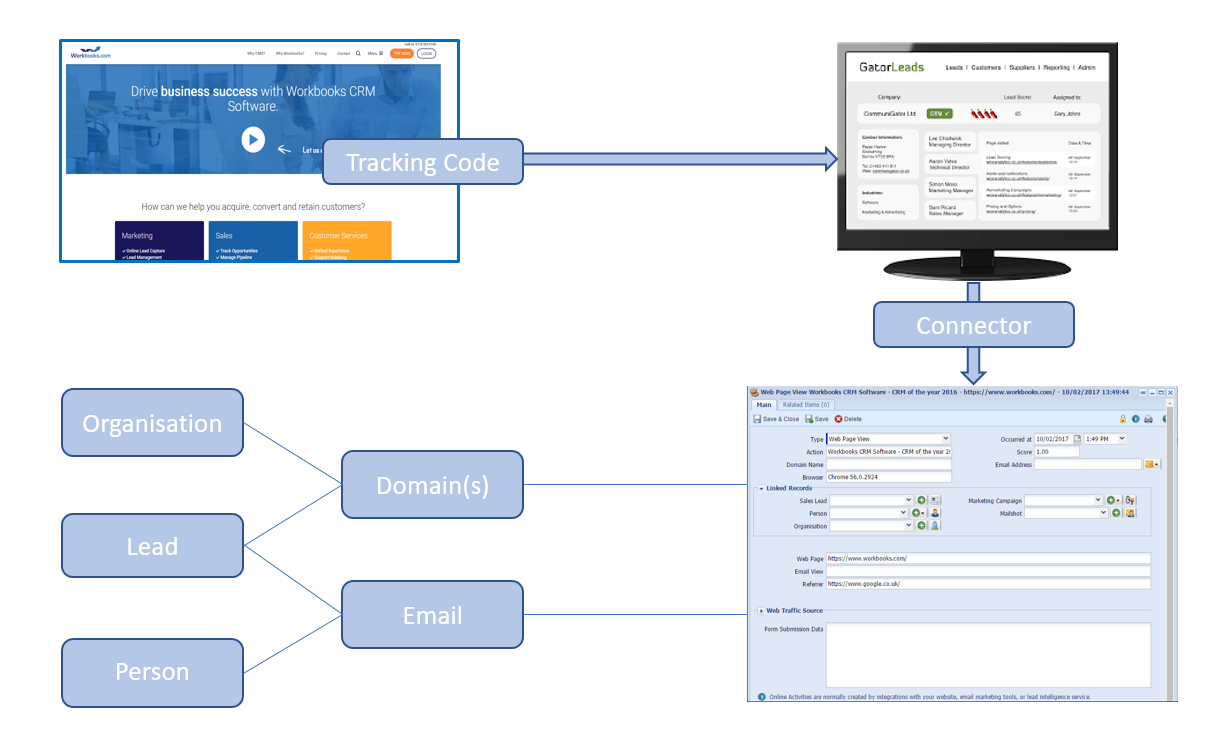 A new Online Activity is created for each page visit and will include Insights data such as:
The type of Activity (page view, download, web form submission)
The Referrer URL (which page or website was used to get to this one)
Which page was visited
The Score for that page
Which record it has been linked to
This information is then summarised within the Web Insights fields listed below, on Organisations, Sales Leads and People previously created by the plugin:
Last Visit Date
Insight Score (today, 7 days, 30 days)
Industry, revenues, Employees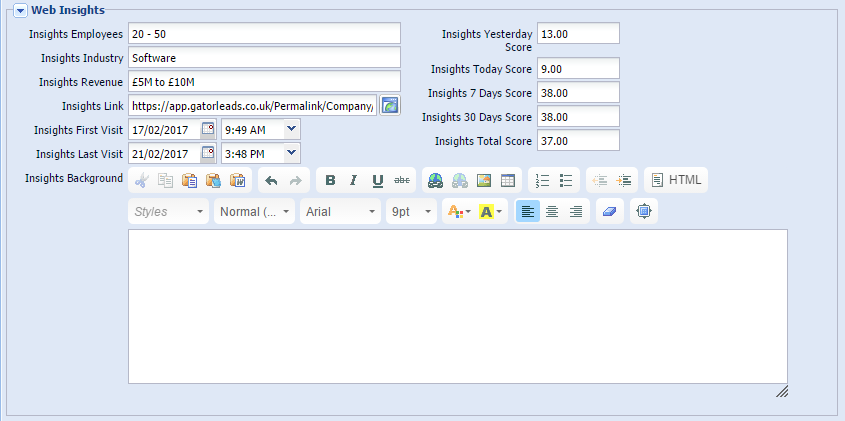 How do I get started?
This module is currently in Beta, so please contact support@workbooks.com to register to join the program, if you:
are available to be actively involved over the next few weeks
are willing to provide feedback
have resource available to put the tracking code on your website
We'll contact you to ask for further information required for us to set up a trial account in GatorLeads, which will generate the tracking code for your website. You can find further information about adding the code to your website in our Knowledge Base.
Once you have placed this code on your website, we'll be able to start setting up the Workbooks Plugin, which will bring through the lead information and page-views.