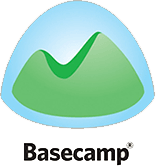 Basecamp is a web-based project management tool launched in 2004. Basecamp offers to-do lists, milestones, file sharing, time tracking and messaging.
Workbooks users can integrate with Basecamp to push/pull messages to or from Workbooks activities, this benefit's both ingrained Basecamp and Workbooks users.
Find out more by visiting the Basecamp Zapier page or contact us.