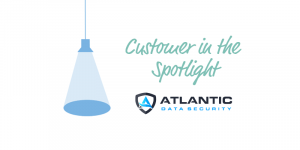 In this month's customer spotlight we look at how Connecticut IT security firm was able to lower costs by 50% and add functionality by replacing Salesforce with Workbooks.
Since 1993, Atlantic has been delivering industry leading security products to both large enterprises and SMB markets. It had been using Salesforce to help it manage its sales and marketing pipeline and its customer relationships but felt it was not getting good value.
"As soon as we looked at Workbooks, it was clear we would achieve savings on our license fees as well as better functionality," says Rick Romkey, principle of Atlantic Data Security. "We needed a CRM platform to support the future growth of the business, and the sales forecasting offered by Workbooks was way better than what we had with Salesforce."
The project began with the replacement of a ten-user Salesforce CRM implementation for sales automation – the order processing, invoicing and contract management functionality from Workbooks, would join Atlantic's entire lead-to-cash process in one fully integrated solution, in a way that had never been possible with Salesforce.
The requirement was expanded to include email marketing tool GatorMail, Web analytics tool Web Insights, and Event Management as well as Workbooks' Mapping Module
Due to the imminent expiration of Atlantic's Salesforce licenses, the project had to be implemented in just five weeks.
It was already a tight turnaround and then during the discovery phase, Atlantic Data Security acquired an IT security firm called Netanium, which already had 12 people using Salesforce and Pardot B2B Marketing Automation software. Atlantic's users were mostly using Salesforce for quoting, so the differing approaches had to be integrated seamlessly during implementation.
This was a complex project but the Workbooks team delivered it in just 20 days. It successfully merged the Atlantic and Netanium solutions, migrating and de-duping data from the two separate Salesforce solutions, and aligning the sales and marketing teams onto one platform to provide end-to-end visibility behind a common set of practices and processes, all the while ensuring the continuity of the business.
For Workbooks it was an exciting milestone, and to have completed its first US implementation so soon after its expansion from the UK suggests there will be significant demand for its CRM platform in the US.
For Atlantic Data Security it has been transformative. Romkey says: "Thanks to the increased functionality, we'll recoup implementation costs in less than two years and continue significant saving on license costs beyond that. And the improved functionality is producing results: it's rapidly delivering clarity from complexity."
He concludes: "This was the right decision for us."
Contact one of our team today to discuss how Workbooks can also drive the future growth of your business.