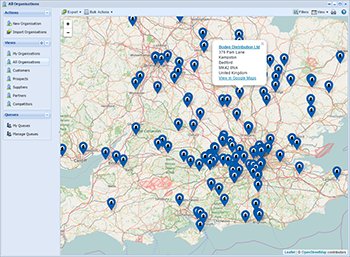 The number of leads entering an organisation's marketing funnel is a crucial indication of the health of a sales and marketing programme. An organisation may have the best lead nurturing programme and salespeople in the industry, but if too few leads enter the top of the funnel they will struggle to hit targets.
Many organisations rely on their CRM platform to help them generate leads. 'We now capture leads from our website and automatically distribute them to partners," says James Gray, CEO at Taopix. "This ensures our partners get the right leads quickly and we can track their progress." How are firms like Taopix doing this so successfully?
  Website visitors
Your CRM platform will record visitors to your website. So, it may be a couple of years between a prospect's first visit – perhaps to speculatively scope out options – and their second visit – perhaps armed with a budget – but your CRM platform will remember the first visit and prompt you to take the appropriate action. This is a useful tool for adding leads, and it should also help inform your paid online marketing strategy by telling you where those leads came to you from.
  Anonymous visitors
But how to turn anonymous visitors into leads? Enter Reverse IP lookup. This is a web analytics module that records the IP addresses of visitors to your website and then seamlessly integrates with your CRM to match these to companies' IP addresses and then give you the names of companies that have visited your website.
No one is suggesting that you will make a sale with every company that visits your website, but it is a clear expression of some degree of interest. This IP lookup will seamlessly integrate with your CRM platform and allow you to add leads to your marketing funnel and to prioritise leads.
Another solution to the anonymous website visitor is the integration into paid media platforms such as LinkedIn and Facebook that today's CRM platforms allow. These take a user's data from their profile so there is no need for a landing page or form completion. Check that your CRM platform offers this functionality.
  Benchmarking, cross-selling, referrals
There are many other ways a CRM platform can help generate leads. It allows you to benchmark marketing campaigns so you can focus resource on the ones that generate the most leads. It gives you a single view of your customers, perhaps allowing you to turn a complaint into customer services into a cross-sell opportunity.
Finally, referrals are an important source of leads for any business. Other than the cost of delivering a great customer experience, they are free to acquire, and they have a high conversion rate. A CRM platform allows you to incentivise referrals from existing customers, to see the progress of those referrals, and to manage that journey through each stage.
  Your ROI
Lead generation is only one of the potential benefits of a CRM system. To help you understand the specific benefits that could accrue to your organisation we have created our ROI Calculator. Take a look now and discover the effect a greater flow of leads could have on your business.