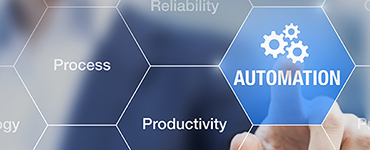 For a CRM project to maximise business benefit, there is often a requirement that the CRM system is integrated with other business applications within an organisation.  These business applications can range from ERP to marketing automation to finance / accounting and much more.
Workbooks have made the integration process easy by pre-building common record structures, such as Order and Invoice records, Tax structures and accounting periods. This helps simplify integration and reduce integration work / cost.
In addition, Workbooks provide a wide range of integration tools and approaches, allowing total flexibility today and for the future.
So what are the integration options available to customers and how do they work?
1. Pre-Built Connectors
Workbooks provide pre-built connectors for the most common integration requirements, for example Outlook or MailChimp. Customers have a common set of standard requirements that don't vary and therefore building a direct connector makes sense.
If a specific client requires a connector that doesn't already exist and we believe the connector would benefit other clients too, we will either fund the development of the connector ourselves or co-fund it alongside our clients.
Examples of pre-built connectors include:  
Microsoft Outlook
Microsoft Exchange / Office 365
Google Calendar
Google Docs
Sage Line 50/200
Box
Adobe Sign (formerly EchoSign)
MailChimp
Dotmailer
CampaignMaster
Hubspot
MySQL connector
Microsoft SQL Server connector
2. Zapier Integration

Zapier is a cloud based integration platform designed to simplify the integration of different cloud applications. Workbooks have built a connector into Zapier which supports 'Actions' and 'Triggers' for the majority of Workbooks record types. Actions create or update records in Workbooks, e.g. to create a new Invoice. Triggers are events that occur in Workbooks, which would then cause an Action to occur in a different application. For example, when a new case is created in Workbooks (Trigger), create a case in Zendesk (Action).
Over 750 cloud application vendors are part of the Zapier ecosystem including LinkedIn, Facebook, Zendesk, Trello, Sage etc. Workbooks believe that an increasing number of cloud vendors will focus on building integrations with integration hubs like Zapier, rather than direct connections to specific platform as this simplifies integrations for clients and increases vendor reach. Watch our for our next blog when we'll dive into Zapier in more details.
3. Web Services API

Workbooks have a full Web Services API that underpins all their integration options and provides a generic method to connect Workbooks to any application that has a corresponding API or SQL database. The "restful" API has the ability to create, read, update and delete all records inside Workbooks and it also exposes the definition of custom fields and reports.
We provide a set of "wrappers" for PHP, .NET, Java and Ruby to enable easy integration by third- parties using the technology of their choice. For more details on Workbooks API, go to https://www.workbooks.com/workbooks_api
4. Workbooks Process Engine

Custom scripts can be hosted within the Workbooks Process Engine inside the Workbooks environment. They can use the API to automate processes within Workbooks and also integrate Workbooks with other platforms. Scripts can be run as scheduled processes, or invoked using Web protocols or button presses within the Workbooks user interface.
For example, the MailChimp connector is built using scheduled processes running within the Process Engine. Process Engine scripts can connect to other applications via Web Services, directly to an SQL database, or via a file transfer method to move/synchronise data between various systems.
Typically, the Process Engine is used in two ways
1.    To 'wrap-up' a set of business logic inside a Workbooks Web Process, which can be called by a third-party application via a URL. A typical example is: create a new order. This process would create several records, e.g. Organisation, Person, Order and Invoice records, set the relevant values and build the appropriate relationships.
Rather than drive the API directly to create the relevant records in Workbooks, a web process can store all the business logic and that logic can then be called using a simple URL. This approach allows you to build and maintain business logic in one place and then invoke that logic either from within Workbooks or from an external application – simplifying integration and, more importantly, reducing costs and complexity.
2.    To build a Web Application which can be hosted inside Workbooks, but published on an Internet or Intranet site. A typical example is a customer portal, where your customers can login and access information inside the system, such as support cases, quotations, or order history.
5. Workbooks Import Engine

Workbooks has a robust importing tool that allows you to import into any record type from a CSV file. The import engine has a number of key features, including automatic duplicate matching,  the ability to create new records or update existing ones, create template field mappings – simplifying recurring importing processes and much more.
6. Reporting/Export Engine

It is possible to create rich reports in Workbooks and export this data to other systems easily, either via the API, FTP, an Automation or via scheduled email reports. This is commonly used to move data from Workbooks into other systems.
7. iFrames

Workbooks can easily present web pages hosted on other systems inside Workbooks to improve the user experience. For example, you could present an article published on the web, in the context of the member record in Workbooks.
If you are committed to transforming your business into a more customer-centric organisation we suggest you make CRM the 'hub' for your valued information. And in order for this strategy to be successful, you'll need to ensure that your CRM system is well integrated with all the other sources of data within your organisation. If your CRM and your business apps can send data back and forth to one another unhindered, manual data entry becomes a thing of the past and that means the hours you use to spend doing it are suddenly open for better things…
Workbooks offer a variety of integration options to meet the requirements of customers, whatever their goals and whatever the outcomes they want to achieve. Workbooks offer choice and flexibility to drive business success to get in touch please visit our contact page.