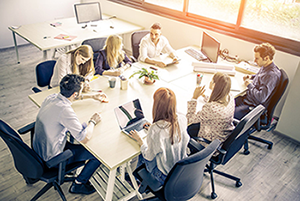 According to a recent study by accountancy and business advisory firm BDO, mid-sized companies have been the driving force behind UK export in the last five years. With UK firms currently re-evaluating their export options as Brexit becomes a reality, this study highlights the importance of this often overlooked group of businesses.
These are the firms with a revenue of £10 million to a couple of hundred million, who are typically AIM-listed and private-equity owned. Since 2011 they have increased international turnover by a remarkable 50%, from £84 billion to £127 billion. In contrast, export revenues at FTSE 350 companies have fallen 14%, and at small firms, they have dropped 25%.
BDO urged the Government to engage with the 30,000 'overlooked and undervalued' mid-sized firms, pointing out that they are too big to benefit from initiatives aimed at small firms, but not large enough to win the attention that FTSE firms command.
Taking control
However, there is much that these mid-sized firms can do to help themselves, regardless of what support they receive from the Government, and regardless of the effect of Brexit on their overseas revenues. For many, an investment in CRM is an important step.
By the time they have reached a £10m turnover, or mid-sized status, most of the firms will have developed a complex net of ad hoc processes, all with their own documentation, support overheads and reporting systems. This approach is enough to get a business to that point, but it is rarely enough to take it beyond that point and often hinders further growth. At that stage, if the business wants to grow further it needs to invest in getting the foundations right.
CRM is often misunderstood as technology. Typically regarded as another software package, in fact, it is more akin to a change management programme. CRM platforms like Workbooks are helping mid-sized businesses prepare for growth by improving sales and marketing effectiveness, streamlining and automating operational processes, improving the customer experience, and providing management information to aid decision-making. Crucially it allows firms to scale without the need to hire an army of administrators with the associated cost and management overhead.
Partner to the mid-sized firm
Many mid-sized firms find the selection phase an intimidating process. Pick the right solution and manage the process well, and a CRM platform can bring significant benefits. But there are so many vendors out there, all with slightly different offerings, how do you pick the one that is right for your business?
One factor to bear in mind is how well your potential partner understands the specific requirements of mid-sized businesses. Many of the well-known names in this market have been designed for large corporates. These can dazzle in a demo but a few months down the line you might wonder why you are paying so much for all these bells and whistles that you will never need or use.
This is not to say you should settle for a second-rate solution. You should insist on the same functionality you would receive with an enterprise solution, but you should expect it to be tailored for a mid-market organisation. Your CRM platform should easily integrate with the other business systems you are using, such as your marketing automation, finance etc.
Another consideration is where the vendor is located. We may live in a global market, but there is still much to be said for having a vendor that is local. This is especially true with something as business-critical as CRM.
Below is a checklist of the things mid-market organisations looking at CRM should consider:
1 – Deal with the vendor

Are you dealing with the UK representative of a US software giant that doesn't know you even exist, and where the reseller has absolutely no control over product direction or pricing? Or are you dealing with a UK vendor who values your custom, actively seeks your input on product enhancements, and cares about the successful outcome of your project because that's the key to a mutually beneficial long-term partnership?
2 – Buy a solution to match your needs and budget

Most of us would love to drive a Ferrari but what do we do in reality? We buy something better suited to our needs and spend the difference on a great holiday, a new kitchen… Why invest a significant amount of time and money trying to squeeze a complex, high-maintenance enterprise-level solution into your business when it simply isn't appropriate?
3 – Watch out for implementation and ongoing support

Enterprise-level systems are complex and expensive to buy and run. Do you really want to be competing with the global multi-nationals when it comes to paying consultancy day rates or hiring IT specialists?
The majority of products designed for the mid-market are intended to be operated and maintained by a customer 'superuser' rather than a team of in-house or vendor specialists. At Workbooks, for example, our approach is to enable customers to be as self-sufficient as they want to be. The platform is as easy to configure as it is to use, but if an administrator gets stuck adding a custom field, changing a layout or building a report, our UK support team is just a phone call or email away.
4 – Vendor integration

For any customer-centric business, CRM needs to operate at the core of the organisation, providing a reliable and trusted repository for all prospect and customer interactions, and to do this well it needs to interface with all the other business systems being used, such as website, marketing, email, operations, accounts etc. But who is going to integrate these systems and ensure the data keeps flowing as planned?
Many mid-sized businesses simply don't have the skills, time or interest in knitting all of this together, and prefer to find a single supplier with an integrated platform that will enable the seamless transfer of data that will allow staff to perform their roles more efficiently and provide the management team with instant access to reliable, collated data.
Conclusion
Mid-sized firms have clearly been contributing significantly to the export success of UK plc and we can expect this trend to continue. Even in these uncertain times, the figures show there are lots of opportunities out there for mid-sized businesses that are prepared.
Implementing a new CRM system to transform sales and marketing processes in preparation for growth is a significant challenge for any organisation, but for a growing mid-sized business the process is made more difficult as everyone is busy and there are multiple competing demands on cash flow. In this situation, finding an experienced, partner that is focused on the same long-term successful outcome as you are could make all the difference!