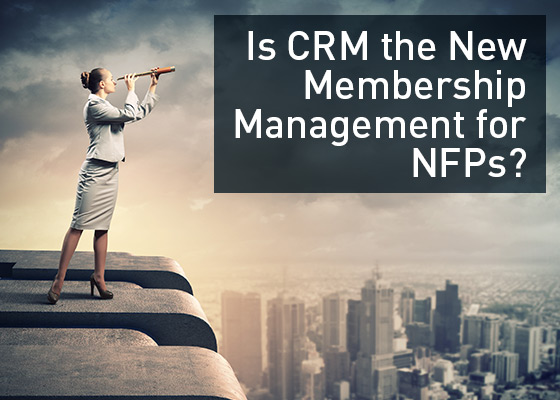 learn why NFPs should be replacing legacy contact management databases with next generation CRM systems.
Not for profit organisations (NFPs) need to minimise operating costs wherever possible to ensure that their activities generate maximum return. Unfortunately this means many businesses skimp on contact management systems. But choosing a limited functionality option could actually be less efficient, and therefore more costly than full-blown CRM systems.
  Address books aren't enough
Despite having hundreds, if not thousands of members and subscribers, many NFPs rely on small-scale solutions to store their details. It is not uncommon to find them using:
Outlook address books.
Excel spreadsheets.
Custom Access databases.
Small-scale contact management systems.
The problem with any of these systems is that they may be great for keeping membership details, but they are pretty poor for advanced membership management.
Worse still, each of these "solutions" requires significant manual intervention. Staff will need to manually update membership status details, address changes and other personal information to ensure that:
Information is completely accurate.
Information meets Data Protection Act standards.
However each time data is re-keyed or copied from a letter or email, the chances of a typographical error increase exponentially. Worse still, data stored in the contact management database is not available to be shared with other systems throughout the organisation.
"Centralising all of an organisation's customers in a single system is the preferred method of providing a "single supporter view" which is often mentioned by NfP organisations… Holding one central master record on each customer has numerous benefits: data is held once, as one respondent put it "there is one single instance of the truth", data is entered once, data is updated once, there are no integration issues with one database communicating with another to keep records synchronised when an update is made on one, data is always up-to-date as the first person to be notified of a change of customer details, e.g. a change of address, makes the change on the database. The "single instance of the truth" has benefits in terms of making it easier to comply with the Data Protection Act and in cost reduction through a lessening of maintenance tasks and staff time." – Towards a Taxonomy of Reusable CRM Requirements for the Not For Profit Sector – Peter Flory.
CRM systems provide the ability to store contact details, organise and execute donation campaigns and provide mechanisms to simplify membership data update.
  Simplifying mass-mailing
With a traditional membership management system, a mass mailing can also be a massive undertaking. Filtering the members who need to receive a renewal letter, for instance, often requires a staff member to physically check records before the mail merge can be performed.
Using CRM systems, details of membership status, renewal dates and subscription fees can all be stored within contact records allowing for quick and easy status reporting. Similarly renewal letters or emails can be set on a schedule so that they are sent automatically each month without intervention.
"The more processes that can be automated the more time staff have to spend on relationship building with their customers. Workflows should be defined wherever possible so that tasks in a sequence are initiated automatically" – Towards a Taxonomy of Reusable CRM Requirements for the Not For Profit Sector – Peter Flory.
  Website integration
The manual management of membership details is a weak point for any NFP. Mistakes can and do happen, leading to failed membership renewals or missed donations. Worse still, where mistakes become commonplace, NFPs may find that they begin to lose frustrated members, further reducing organisation effectiveness or fundraising potential.
Using CRM systems that hook into your organisation's website, it becomes possible to capture new contact details directly from an online form or self-service web portal. In this way you can grow your contact list and be sure that the details are correct because they have been entered directly by the interested party. Similarly existing members can be encouraged to log in and update their own details as and when they change, thereby ensuring that contact data is accurate. Your members will probably even prefer contacting you in this way.
"Just 28% of consumers prefer contacting companies by phone vs. using the Web for routine answers." – Forrester Research
Where contact management systems were once sufficient for Not For Profit organisations, CRM systems are now the logical platform of choice because:
CRM systems reduce the number of systems required to store members' data.
One centralised member record makes data management simpler and cheaper.
Automated contact systems make it easier to keep members informed, establishing closer relationships.
Self-service data update services suit members and reduce your administrative overheads.