Membership management systems just can't give you what the Workbooks CRM can… we compare the functionality of the two solutions. How can Workbooks help me manage my membership and even boost engagement to help my business excel?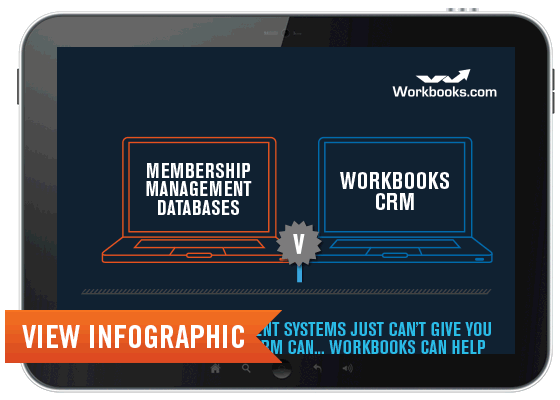 Managing the membership database:
Membership management database
A standard membership management database:
Stores general contact details and subscription information for each of your members.
And that's about it.
Workbooks
Workbooks CRM allows you to:
Maintain compliance with the Data Protection Act.
Keep extended information to give a complete picture of each member.
Provide better targeted, more relevant offers and updates to members.
Help keep them coming back for more!
"Personal data shall be accurate and, where necessary, kept up to date."
Principle 4 of the Data Protection Act
Keeping data current:
Membership management database
Usually, your membership management database should contain most of the information you need to keep on top of your members. As long as:
You remember to keep it up to date.
You continually email and phone members to verify your data.
Workbooks
Workbooks CRM allows your members to:
Easily update their own information, such as change of address or mobile number, via your website.
Manage their communications preferences, making sure they receive the messages they actually want from you
Your team can then use the time saved to exploit that data, improving your customer service and marketing.
"By 2020, customers will manage 85% of their relationships without talking to a human."
Gartner Research
"Seventy-five percent of the organizations surveyed admitted that defective data had a negative financial impact on their business. Fifty percent incurred extra costs to reconcile data."
CRM Data Strategies: The Critical Role of Quality Customer Information – Gartner
"Just 28% of consumers prefer contacting companies by phone vs. using the Web for routine answers."
Communicating with members:
Membership Management Database
Using the stored contact details, you can:
Send out routine newsletters.
Mass mail special offers.
Unfortunately, there will be little or no personalisation, and almost certainly a lot of time-consuming manual intervention.
Workbooks
Workbooks CRM does all this and allows you to:
Store details of incoming communications so you can see the membership history of every single contact at a glance.
Record both sides of your interactions giving a true picture of your relationship with each member.
"Nurtured leads make 47% larger purchases than non-nurtured leads."
Lead Nurturing, the Secret to Successful Lead Generation – Aberdeen Group
Segmenting your audience:
Membership Management Database
Although you have many relevant details about your members, you cannot split them into groups of shared interests, geographical regions or even gender. Any mailings sent will therefore be:
Generic
Boring
Irrelevant
Deleted unread by your members
Workbooks
Workbooks CRM allows you to:
Subdivide your membership quickly and simply, any way you choose.
Gain better insight into your members, targeting them with information and offers they actually want to read.
Increase sales, thanks to better targeted communications and offers.
"Segmenting customers results in a 9% improvement in email click-through rates, a 9% improvement in conversion rates and a 5% rise in customer retention rates."
Email Marketing: Get Personal with Your Customers – Aberdeen Group
"50% of Best-in-Class companies use the information collected within their customer profile dataset to personalise email campaigns."
Email Marketing: Get Personal with Your Customers – Aberdeen Group
Automating membership processes:
Membership Management Database
Your membership management database might record important anniversaries, but:
Important anniversaries will need to be followed up manually.
Renewals need to be sent and processed manually.
Some dates will inevitably be missed or forgotten on occasion because of the manual labour required.
Workbooks
With Workbooks, key membership routines can be automated and members notified automatically, including dates like:
Renewal notices.
Birthday offers.
Membership upgrades.
Process membership expiry and renewal information.
"There is nothing so useless as doing efficiently that which should not be done at all."
Peter F Drucker, American management consultant
Planning and managing events:
Membership Management Database
You have your member's details to hand and possibly even a calendar for noting important dates. But:
You can't tell who is invited to a course because your contacts and calendar are not integrated properly.
You don't know who has RSVPed.
You have no idea which invitations need chasing up.
Workbooks
Workbooks CRM allows you to:
Schedule events and training sessions and the resources required.
Email or post invitations and registration forms automatically to members.
Record details of guests attending and any personal requirements.
Easily follow up outstanding invitations.
Takeaways
If you don't upgrade from a membership management system to CRM software, you're missing out on:
The opportunity to keep extended details on your members.
Easy data upkeep.
Communication opportunities.
Easy audience segmentation for marketing campaigns.
Automated membership processes.
Easy events management and promotion.