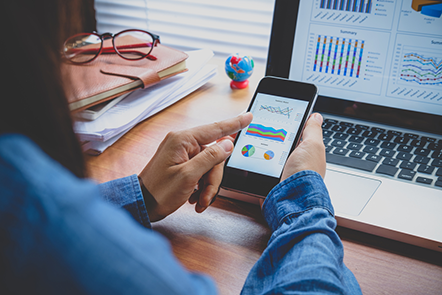 In my 'previous life' as a Management Accountant, it was my job to supply the management team with the monthly management accounts together with operational and sales statistics and analysis. The monthly accounts although important were generally disregarded in favour of the more detailed performance reports on which managers were being judged and from which decisions can be based.
Just interested in their own numbers
Sales and marketing managers unsurprisingly were interested in the reported sales performance for their areas of responsibility. The analysis would generally be a mixture of financial breakdowns as well as volume based data and when combined with budgets were all used to generate performance indicators to show how well the organisation was doing.
All of this information was all generated by the accounts department from processing transactions into an accounting system which was only accessible by the accounts people. Generally there was at least a week's delay, often two, after each accounting period was over before these reports were available. In larger companies it is not uncommon for a period of 3 weeks to be required to get the monthly accounts published.
In a fast moving environment, waiting weeks for sales information arising from the beginning of a month can be at the very least frustrating. Understanding and monitoring performance in this way can result in decisions not being made as quickly as they could be, to correct or exploit any emerging trends. Accounting systems are necessary to provide control and statutory reporting but because of their very nature are not generally the right tool to generate analysis reports in a timely manner. Reports from accounting systems also can be very prescriptive and largely depend on the chart of accounts structure, and if new reports are required this will normally involve a considerable amount of work to make them available.
At Workbooks?
At Workbooks we take the view that the full sales process including the generation of orders and invoices i.e. 'prospect to cash' should all be part of the CRM system and reports and dashboards should be updated in real time. We have therefore designed our service in this way so that Sales, and for users of Supplier Orders or Schemes, Gross Margin information, can be viewed simply by logging in to the service and their dashboard and read the graphs and charts change as transactions are processed live. Sales numbers can be sliced and diced and based on whatever makes sense to the organisation, i.e. by product, market sector, geography or combinations of these, and not by what was determined many years ago when the accounting system was set up.
There are many benefits of integrating the Sales order process inside the CRM, which will, or have already been, covered by other blog entries, the point I am trying to make is simply that we understand that you need your numbers now!