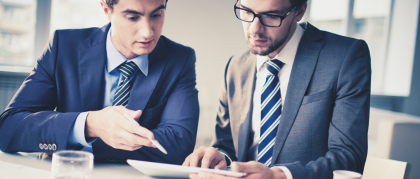 10 June 2011 – Workbooks.com is urging businesses to rethink their investment in Salesforce.com by guaranteeing to undercut Salesforce's subscription fees by 50%. Salesforce.com customers can make significant cost saving by switching to Workbooks, but more importantly can benefit from an alternative solution designed specifically for SMEs.
In addition, Workbooks extends beyond traditional CRM functionality to integrate Sales Order Processing, Purchase Order Processing, Invoicing & Credit Notes and Contract Management without the requirement for third-party solutions.
A recent convert from Salesforce.com to Workbooks.com is Phil Worms, Marketing Director of iomart Group PLC. He commented, "As a Group we had been using Salesforce, but found the product to be inflexible and unintuitive for particular marketing needs. After a market review we settled on Workbooks. It offered us a full portfolio of reporting tools, which fully supports our sales and marketing effort and is backed by a totally responsive and customer centric company."
John Cheney, CEO of Workbooks.com added, "Our intention is to make it easy for SMEs to move from Salesforce.com to our platform. We have launched this competitive program to support any businesses that may be unhappy with their Salesforce.com implementation and to demonstrate that we can offer SME customers more for less."
Workbooks provides a range of implementation and training services to underpin successful customer implementation. "We pride ourselves on being able to support the customer from the initial installation right through to training and beyond," says Cheney. "We see lots of poor quality implementations of CRM, where many small businesses are paying for software that is not being fully utilised. By combining our products and services, with a clear understanding of the needs of the SME market, Workbooks can help businesses, increase sales, improve customer retention and streamline business processes."
Key business benefits include:
More affordable – No hardware or software cost makes the system highly cost effective and the contract undercuts Salesforce by at least 50%.
Easier to use – The 'windows-like' user interface makes the system easier to use than average CRM solutions, which makes adoption and training of the product far easier within the business environment.
'Prospect to cash' – The system can start with a lead, create opportunities, quotes, orders and invoices through one solution. By integrating a range of business processes a transparent image can be built up of each and every customer.
Improved Management – Bills can be easily tracked and managed through one central system and a client's life cycle can be quickly reported – streamlining a range of business processes.
About Workbooks
Workbooks.com is one of the fastest growing providers of web based CRM and business applications designed specifically for small and mid-size organisations.
Headquartered in the UK, our suite of products enables our customers to accelerate sales growth, improve marketing execution, streamline business processes and improve the quality of customer support they deliver.
The Workbooks CRM edition delivers easy to use sales force automation, marketing management and customer support tools. The Workbooks Business Edition extends CRM to include the generation of transaction documents, such as customer orders, supplier purchase orders and customer invoices.
Workbooks Press Contacts
Kate Jones / Hannah Byrne / Olivia Calvert
Berkeley PR
0118 9882992