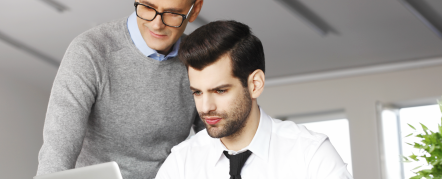 You've spent hours in meetings to strategise your website, choosing its design. Now it's gone live, how are you going to use it to capture sales leads? You never need to let a lead from your website go astray if you use the correct CRM techniques. After all, your website now owes you and you need to put it to good work.
"Clearly the first thing to do is make sure that the website is available for potential prospects, and I mean SEO and PPC campaigns", says John Cheney, CEO of Workbooks. "Once customers arrive at the site, the impression needs to be compelling enough to find out why they may be interested in buying your products and services. Your website also needs inspiring copy that offers the right calls to action to give them reason to provide their details; to enable you to capture their contact information."
Bryan Foss, a Visiting Professor at Bristol Business School, as well as an author on CRM and customer management topics, offers the following tips:
Make sure that your website supports your core purpose and complements other contacts your organisation has with its clients, partners and prospects.
Be absolutely clear what type of leads you should expend effort following up. It's also important to review your current profitable clients, those who work with you, and develop their business value.
Aim to attract leads of that type and 'help them through the buying process'.
Avoid attracting leads which simply distract sales resources, and include some level of pre-qualification process before assigning key resources.
Track leads through the process from a connection to cash. This requires a 'whole business system' – a type of CRM system – that provides measurement and management of the whole pipeline, sales, delivery, invoicing and the cash collection process.
Identify where good leads drop out of the process, carry out root cause analysis, fix processes and continue.
To avoid losing leads, they need to be automatically captured by a CRM system where they can be tracked and measured. Information about what customers search for, and where they have been looking on your website for information, articles, products and services, needs to be tracked so that you can optimise your website to increase its stickiness and the potential for someone who's just browsing it to make a purchase or a sales enquiry. The process is not finished: once the data is captured by the CRM system, your sales team needs to follow up on any leads that have been gained to qualify and convert them into sales.
"So by using analytics you can capture customer data on who's arrived at your website, and know if they have downloaded a whitepaper or looked at product A or B, to make any calls your salespeople make to any particular customer more effective and informative", explains Cheney.
Workbooks CRM operates in the Cloud, and there are tools available to allow you to capture the data. There's 'Web 2 Lead', for example, which Cheney says "Allows our customers to put a form on their website to capture customer details that are automatically fed into the CRM system". Cheney also advises that "By rating sales opportunities and having a well defined sales process you can ensure that more opportunities result in a successful outcome by using the CRM tools." The tools offer considerable benefits as they can help you to de-risk your sales forecasts.
But how can this all be achieved on a reduced marketing budget? "We are using Cloud-based technology for implementing and managing leads from our customers' websites, and it is less expensive to maintain and purchase than licensed software. The value we can bring is about joining up a website's leads", says Cheney. Value is increased by also linking your website and CRM to other sales and marketing channels: mobile, social media like Facebook (by watching conversations about your company) and even sales calls to your office.