The four top reasons people leave Salesforce.com for a new CRM system
Salesforce.com is undoubtedly the largest vendor of Customer Relationship Management software in the world, as well as one of the most successful providers of Software as a Service (SaaS). So big in fact that they are even listed on the New York Stock Exchange with the reference code CRM.
But although it may be the easy choice, Salesforce.com is often not the best fit for every business, especially mid-size organisations. Many businesses start their CRM journey with Salesforce.com, before looking elsewhere for a solution that better meets their needs. Here are the four top reasons organisations leave Salesforce.com.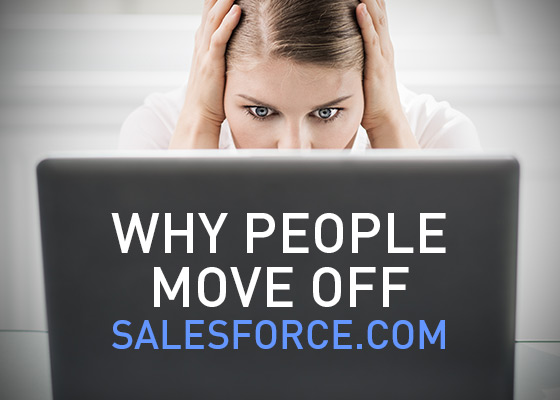 1. Cost
One of the biggest complaints about Salesforce.com is the price of the service. As with most SaaS offerings, subscription is on a per-user basis, and requires a minimum purchase of five licences, and you will be required to upgrade to more expensive versions as your usage extends.
If you want to use the API with Salesforce.com, for example – as many businesses do – you'll need to upgrade to the Enterprise edition, which is £85 per month, per user. If you want to upgrade one user to a more expensive package, Salesforce.com requires you to upgrade all your users. And as you want more features, you will need to keep upgrading.
There are much cheaper options out there, which can prove to be much better value – Workbooks Business Edition, for example, costs £42 per user per month, and comes with sales order management and invoicing functionality that you can't get with Salesforce.com.
You can also upgrade on a user-by-user basis, allowing your organisation to grow without costs escalating.
2. Vendor support
Vendor support for a CRM implementation is essential if your business is to get the very best from its investment. Where Salesforce.com immediately falls down, however, is on the fact that it does not provide its own implementation services for small and mid-size businesses – rather, it sends them on to a third party, who are likely to charge a large fee for the work with no guarantee of a successful outcome to your CRM project.
Ironically for a customer-centric solution provider, Salesforce.com are also known for poor ongoing customer support, especially for non-enterprise companies. Salesforce are currently in court being sued by valve manufacturer Bray who claim that after paying an additional $22 per user per month for a "Premier Support with Administration" package:
Although automated email acknowledgement of issues were received within two hours, the problems typically took two weeks or more to resolve.
Despite being promised local support, users in Brazil were forced to call Salesforce.com support hotline in Portugal if they required support in Portuguese.
Six-monthly onsite health checks of systems were not performed for two years.

Bray's filing claims they have spent over $290,000 on the improved support package.
It's worth small and mid-size businesses looking for a system who offer both CRM implementation and customer support when you need it, such as Workbooks, who provide full implementation services and on-going support. So not only does Workbooks ensure your CRM delivers results at the early stages, it's even willing to guarantee a successful outcome to your CRM project, which is something that other systems lack.
3. Limited scope
At its core, Salesforce.com is a CRM system, nothing more, nothing less. This means that if you're looking to introduce additional functionality to the system, such as sales order management and invoicing functionality, which Workbooks offers as part of its Business Edition, may be disappointed.
Salesforce.com does offer a range of add-ons which can connect to other in-house business systems, but these are chargeable, often adding a significant cost to the existing license fee. In order to add additional functionality such as order processing or invoicing, customers must purchase Apps from the AppExchange. Customisation is also only available for the Enterprise and Unlimited Salesforce.com plans which cost between £85 and £170 per user per month.
4. US-based data
The storm regarding security service monitoring of data continues to rage, as do concerns about compliance with European data protection regulations. Under the terms of the PATRIOT Act, any data stored in a CRM system managed by a US firm can be obtained by the US security services without having to inform you, the data owner.
The Foreign Intelligence Surveillance Amendments (FISA) Act makes it easy for U.S. authorities to circumvent local government institutions and mandate direct and easy access to cloud data belonging to non-Americans living outside the U.S., with little or no transparency obligations for such practices — not even the number of actual requests. Axel Arnbank, researcher and author of Cloud Computing in Higher Education and Research Institutions and the USA Patriot Act".
To protect intellectual property and customer privacy, many businesses are now choosing a CRM solution from a European provider which is protected from such access by local law.
Although Salesforce.com is a workable CRM solution:
It can be extremely expensive.

Key business functionality such as sales order processing is not included, and would require extra expenditure.

There are serious concerns over Salesforce.com's support provision.

Data stored in the US may be less secure than a UK-based Cloud CRM system.
Download your free eGuide now: 'Making a CRM system work for marketeers'