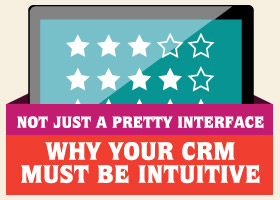 CRM implementations are on the rise, but adoption rates are lagging behind; often, end-users cite 'the system being hard to use' as the reason.
Investing in a new CRM but convinced nobody will use it? You probably need to change your company culture… ask yourself…
Are you ready for CRM?
Are your people adaptable and willing to change?
Do your employees realise this is not just a management tool for reports – it's for everyone?
Do employees realise that, in order for this to be successful, everyone must use it – and no one should go back to spreadsheets?

Make sure the CRM you choose has an intuitive interface
And half the battle is won.
Add in easy integration with other systems and you're nearly there!
Don't be one of the 75% of companies where only 55% of users actually use the CRM.
Don't wait until it's too late
Get buy-in from the start.
Let them know what's in it for them.
Give them some stats. Here's some for you:
Existing customers are 120% more likely to buy again – treat them well!
New customers cost five times more than existing customers.
Emails sent to engaged customers convert 75% better.
Don't go it alone
Get end-users involved at the evaluation stage.
Let them play, give feedback and choose what works for them.
If it's not intuitive, it won't get used.
Training and change management are key. Don't just leave them to it… or they won't do it!
Download the Not Just a Pretty Interface: Why Your CRM Must Be Intuitive Uncategorised today