Today, we're pleased to announce that the Winter (February 2011) release of Workbooks has been successfully deployed.
Our latest release includes some fantastic new features, including the much anticipated 'Contract Management' module and some exciting new custom field developments.
Here's a brief overview of some of the great new functionality:
Contract Management
This is a new module that allows customers to maintain and manage customer contracts within Workbooks. A customer contract is a new type of Transaction Document which allows customers to track the start and end dates of contracts, as well as, for example, the revenue and profitability of contracts at a line item level.
One really useful element of this new functionality is the integration of Contracts with Cases. This means you can track cases against a specific contract and even specific contract line items. For instance, if one of your customers calls up with a problem on a specific product, you can easily search by serial number or product key to find the relevant support contract. At this point, you can check if the support contract is still valid and if they are entitled to the level of support they are requesting.
Learn more about Contracts, here.
User Interface Improvements
A number of productivity features have been added including click-to-dial functionality; click-to-email; and a 'New' split-button on the Main and Summary tabs which speeds up the creation of new items, for instance New Email, New Meeting etc. related to the currently-viewed record.
The loading of the rich-text editor is now significantly faster in all web browsers.
Custom Fields
Two new custom field types – IFrame and URL – have been added. The IFrame is useful for viewing information held in other web-based systems alongside the record being shown. A neat example to demonstrate this is the ability to use an IFrame to show a Google Map, based on the Postcode and Country fields in a given record. The URL field holds a link that when clicked will automatically link to a web page. Both fields can be configured so the link relates to the current record.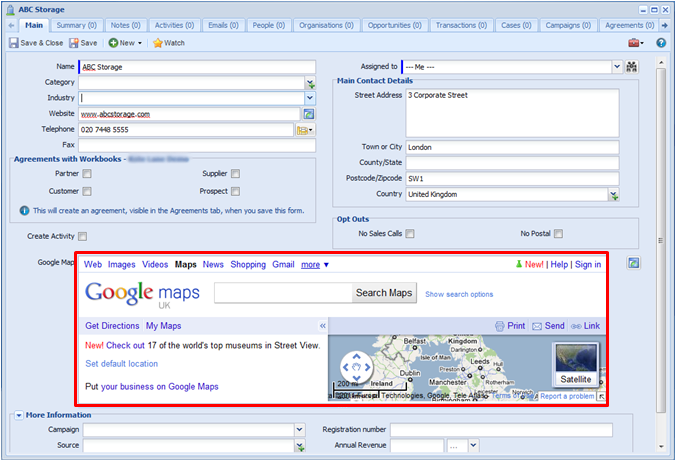 The text within custom fields can also now be searched using the 'Search' dialog and taskbar search – just tick the new 'Searchable' checkbox when you create the custom field.
PDF Templates
There is a new and flexible configuration system for generating PDF output documents including, Quotations, Invoices, and Credit Notes. Customers can configure document colours, texts, and boilerplate text such as their Terms and Conditions; there is also the option to configure custom templates.
Other Enhancements
In addition to the aforementioned enhancements, many parts of the service have seen incremental improvement, often as a result of customer feedback. As ever, please continue to help drive our roadmap by contributing your suggestions and ideas to our community site.
Download the Workbooks Winter Release Uncategorised today